Use Nurture Campaigns to Increase Customer Retention and Drive Profits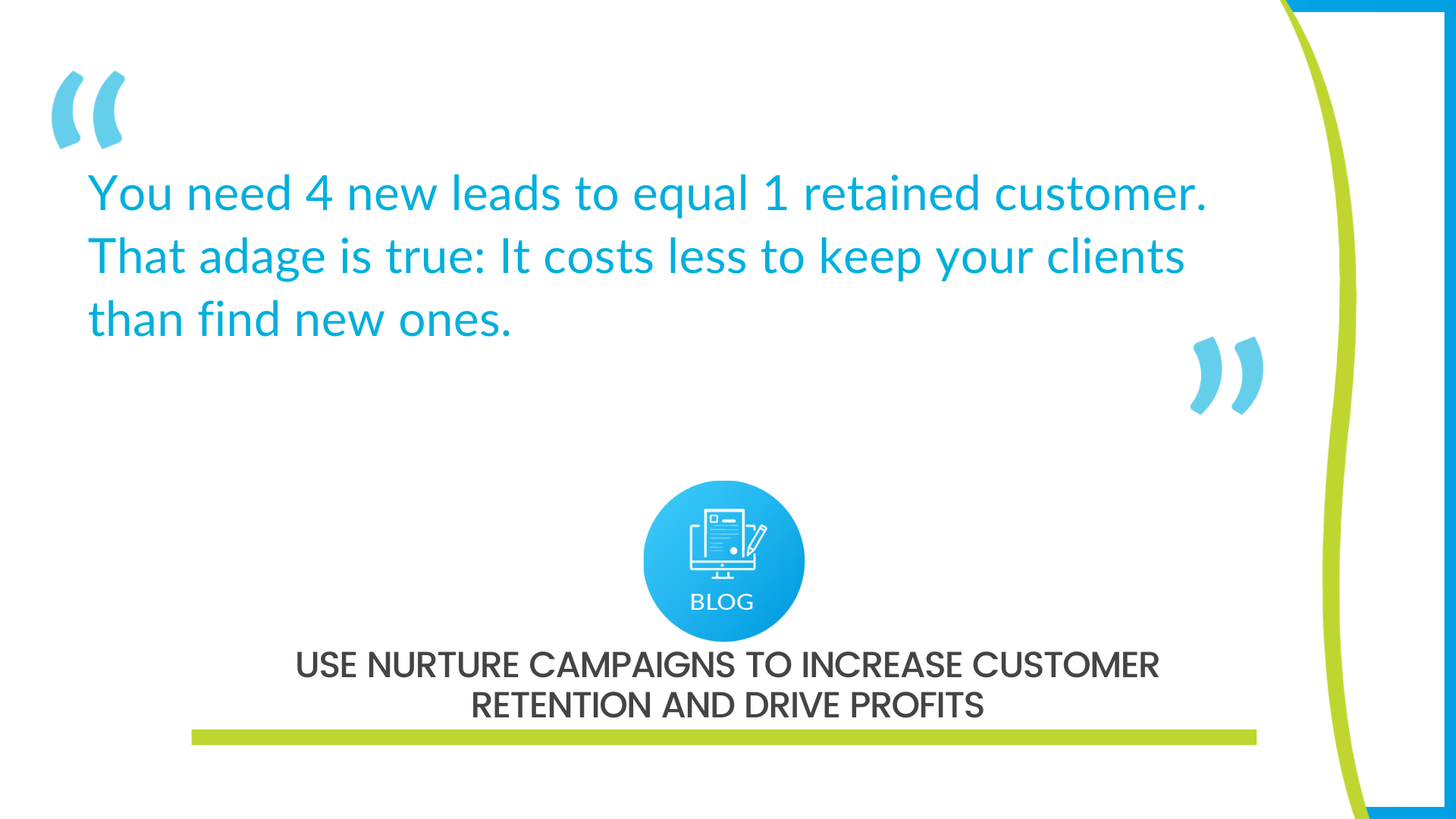 When MSPs tackle content marketing, it's often with a focus on prospects and lead generation. But what about current customers? Using content marketing directed at existing clients, particularly a nurture email campaign, can help grow profitability in a different, more stable, way. Here's why: You need 4 new leads to equal 1 retained customer. That adage is true: It costs less to keep your clients than find new ones.
That's why you are seeing a concerted effort to use content marketing to drive engagement with partners, nurturing relationships with existing customers rather than simply casting the net wider and wider in the search for new prospects. The goal of any customer nurture campaign is simple: retention, engagement, saturation.
Simply retaining clients is a win
Have you looked at what happens in terms of revenue when you lose a client? Not just the value of the lost contract, but also the cost of finding and onboarding a replacement? The numbers were staggering. By working on retention as much as prospecting, you are actually utilizing your resources more efficiently.
Building trust is a crucial deliverable from content marketing—remember, 71% of people are more likely to buy from a trusted brand which is why MSPs need to invest in their brand reputation. The key to building trust is consistency with your nurture campaign and a focus on sharing valuable content that helps them win in their MSP versus a blatant sales pitch.
One option that works for nearly any business is a nurture campaign built around a series of emails or videos that help your existing customers better use your product or service. Maybe it is advanced use options or short training videos, whatever accelerates their value and ROI.
Being a customer doesn't mean they are engaged
Every business wants customers to engage well beyond a purely transactional relationship. The goal is to build a true partnership so clients feel as if they are part of the family. Ultimately, the goal is to turn them into evangelists. Evangelists help tell your business story, and when potential customers see and hear that, it can be very impactful. Today's business decisions are often made based on peer recommendations—so it is priceless to have satisfied customers in a partnership where they feel confident to recommend you.
How can a nurture campaign drive toward this goal? No surprise answer here: Deliver extra value to your customers. Show them you are invested in their success, and they will return the favor. Perhaps your CEO offers leadership advice in a blog exclusively for customers. Share operational tips from your internal team—and don't limit it to technology-focused advice. If your CFO is a rock star, let him or her share their expertise; the same goes for HR or your services team. You can also recognize partners on their anniversaries, run special promotions for them, and offer exclusive meet and greets at your offices or special events. The goal is to create opportunities to take partnerships to the next level.
Get sticky by driving upsell and cross-sell
The better you know your customers, the better you know their business. As with any relationship, as trust grows so does transparency. Customers that are confident that they are a valued part of your business are more likely to share concerns, a huge value since most businesses aren't as aware of places where they can improve. Happy customers are also more likely to engage in open conversation during QBRs, which gives you insights into what is happening in their business that may be an opportunity for additional services.
Penetrating more deeply into your customer's business makes your relationship with them stickier—meaning they are less likely to leave. A nurture campaign can use customer case studies to help raise awareness across your entire client base, but if you know specifically what individual customer businesses need, you can also tailor very targeted messaging to them showcasing the value of a service or product you know they are interested in. But remember, even at this stage, you want to offer value—not push a sale.
Final Thoughts: If you aren't sure about shifting some of your marketing spend over to nurture, this might help: Research shows that increasing customer retention even 5% can boost profits as much as 95%. And, statistics also show that having high engagement with customers opens the door to upsell and cross-sell conversations that can drive a 30% increase in revenue—and that's because you have already onboarded and educated these customers, making ROI faster and more impactful for them.